Sophisticated Ladies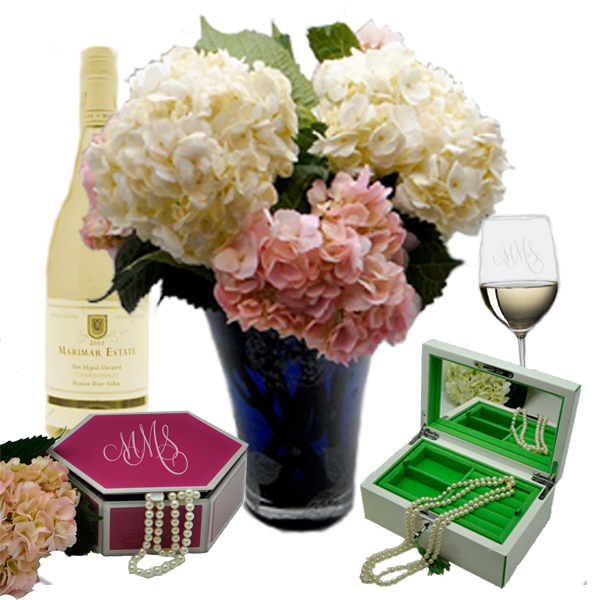 Mother's Day is right around the corner, and to give you some inspiration we have gathered a few of our favorite pieces that will surely bring a warm smile to your mother's face.
What a better way to celebrate your mom than with a lovely glass wine, a new bauble, or a beautiful bouquet of flowers! Here are some great ideas to make her feel loved and appreciated.
For the moms who love a crisp glass of chardonnay, the premium unoaked Marimar Estate, Acero Don Miguel Vineyard (Russian River Valley) is simply transcendent in its boundless flavors. This rich and creamy wine is layered with delectable flavors of peaches, asian pears, and tropical fruits. A wine this delicious deserves to be accompanied by a fine crystal glass. The sophisticated styling of our beautifully etched Riedel chardonnay glass is the perfect pairing.
If your mom prefers to indulge in exquisite jewelry rather than wine, present her new trinket in our glass jewelry box. This item, etched with you mom's monogram, will hold her most precious jewels and memories. Celebrate your mom by showing her that she is more special than her cherished baubles.
Flowers are a direct route to your mother's heart, demonstrating your love and appreciation. For the mom who loves to spruce up her home with fresh bouquets of flowers, hydrangeas have the utmost savior vivre and speak wonders to elegance. Present your bouquet in one of our vases, etched with your mom's monogram, a favorite lighthouse, or whatever it is your mom cherishes most. The vases are our canvas and you, our muse. Let us work with you in creating a gift your mother will really love.
As both a daughter and a mom, Mother's Day gives me the opportunity to express my gratitude, my admiration, and my respect. Give the gift of beauty, of elegance, and of sophistication.
Cheers!